I didn't exactly go out on much of a limb two weeks ago in my analysis of the Fiserv acquisition of OSI when I predicted more vendor consolidation. But this week's FIS and ACI acquisitions do highlight my point about how payments are driving everything in the bank IT systems world right now. Payments are driving all of the innovation, and payments will drive most of the acquisition activity in the bank technology vendor (and credit union technology) space for a while.
Why is that? Because every graph of ecommerce and mobile payments have the "up and to the right" hockey stick, growth curve that investors crave.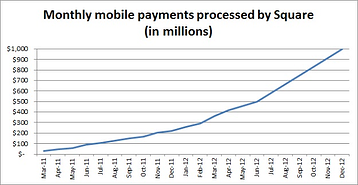 It's still too early to pick who will ultimately own mobile payments processing. Will it be banks? Phone providers? EFT processors? Card networks? Or any of the upstart non-traditional players? Remains to be seen, but the bank technology vendors are betting that having hooks into you and your customer network will be part of their winning strategy.
Both of these acquisitions were clearly about vendors' access to your payments' processing. And while neither of these two acquisitions will have much of an immediate impact on most small to mid size banks and credit unions (neither mFoundry or ORCC were top 3 players in the small to mid size bank and credit union market), there is an important takeaway here.
With bank technology vendors and credit union technology vendors so eager to get your payments processing, they are willing to deeply discount the platforms that give them access to those payments.
Our team negotiates Internet banking, bill pay and mobile contracts every day, and the strategy of FIS, Fiserv and Jack Henry seems to have become "give away" Internet banking and mobile in order to keep bill pay and other payments processing where their margins are huge. Now, they don't actually give it away for free, but they are willing to do deep discounts to ice out the best of breed, third party Internet banking and mobile providers. Those third party providers have to partner with payments processors and their revenue share arrangements are not as lucrative as the core guys who own the processing network. Thus the pricing advantage of the cores.
This strategy has been successful in many banks under $1 billion and credit unions under $300 million where it can be harder to justify bigger spending for "great Internet banking and mobile systems" vs. "good Internet banking and mobile systems". Especially when Internet banking and mobile penetration remains very low.
That creates a pricing challenge for the best of breed vendors, and is in part what fuels their eventual sale to the cores. But the best of breed vendors' search for a stronger value proposition to justify the higher price is also what fuels our industry's innovation.
The improvements in Internet banking and mobile user experience, the move towards a single Internet banking platform for consumer, small business and commercial, the expanded security and functionality for commercial cash management, the ability to develop custom mobile apps, and the seamless integration between Internet banking and remote deposit capture have all been driven by best of breed vendors.
So let's hope all that venture capital money keeps funding these upstarts.
Meanwhile, I'd encourage three things:
Each year in your strategic technology planning process, revisit your best of suite vs. best of breed strategy with your business lines, product managers and IT. As you grow, banks and credit unions tend to start moving away from a purely best of suite strategy to include a handful of best of breed applications. And the first two apps that cause institutions to break off from core are Internet banking (typically driven by commercial functionality needs) and loan origination.
Even if you decide to stick with a best of suite strategy, it's helpful to still check out some of the best of breed vendors before you call your core and simply order their new product (like mobile remote deposit capture). It will help educate you on what's possible and help you push your core vendor for better features.
Use this knowledge to get better pricing concessions from your core providers or your best of breed providers when your contracts come up for renewal. You know they want your payments business. Make them earn it.